Well, friends, today's FINALLY the day!
I'm gonna keep it short and sweet, because some things are just to important to joke about.
Not abortion or Engrish jokes, obviously. Those are free game.
No, I'm talking about the fact that a few weeks ago, MTV- yes, you read that right, MTV- they came to me.
Little old me.
And well, basically… they've offered me the chance of a lifetime.
As of today, June 21st, I am one of 20 contestants competing in "The Search for the First MTV TJ" – aka Twitter Jockey.
And so, in three little words…
I need you.
In a few more,
I need you to make my dream come true.
To check out the full details, my ridiculous intro video, my full profile- all that is here.
Meanwhile, in this place, all I can do is ask for your help to make my dream job a reality.
The job itself may not have existed yet when I was born, or even two months ago, for that matter… but I believe it was meant for me. And, frankly?
I would own it.
And so, selfishly, unabashedly, I am asking for your help. For you to help me spread the word, via Twitter, an email or a Facebook shout out to your friends (are WE friends?? Make sure!), blogging it, posting the badge below… and eventually, for your vote when the voting opens in a few weeks.
In return, I vow to fill all the vending machines with PBR, Big League Chew, and unicorn farts for everyone!
Or something.
HOW TO HELP A GIRL OUT: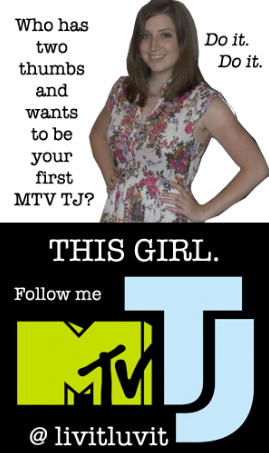 Add this badge to your sidebar (275 px):
Smaller version (175 px):
Tweet your heart out for me, all day, every day! (Yes, yes I'm greedy):
Follow @LivitLuvit, my favorite contestant in the @MTVTJ search for MTV's first Twitter Jockey! #zyncmtvtj
(Feel free to modify, the above suggestion is just for your copy & paste convenience. Cause I'm good like that.)
And then, my love ducks… then we pray. Until we can vote. And then we vote and pray again.
I know there might be a lot of newcomers today, so I'd like to officially welcome you to my humble corner of the interwebs with the musical stylings of my partner in crime Maxie and myself, in the key of Stephen Colbert:
You're welcome.
If you have any questions, new reader or old, please comment or email me. I'd love to hear from you in any and all formats.
But mostly by you pimping me on Twitter.
What?
Update: Here's my intro video I sent into MTV. Um, after watching the others, it's a little… DIFFERENT. But you wouldn't expect anything less from me, would you?